Montag, 22. Oktober 2007
the saison 2007...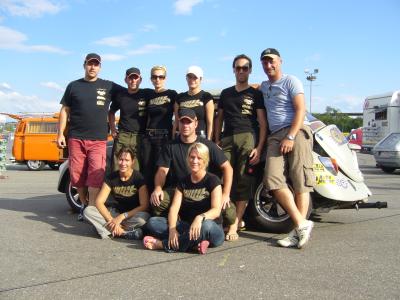 the last season is over, right now. for my friends and me, it was another greate time in racing, events and parties all over the tracks we raced.
we start in may at bitburg raceway with the first street-eliminator run and run the first personal best in the first event this year.
it was a 12.26 @ 106 mph.
the second run in the SE-series in alkerleben/thueringen was a absolut bull shit event in organisation and safety. so the whole SE-competitors decided to leaf the track before the qualifing has come and went back home without any scores.
the 3rd happening, it was the 1st EUROPEAN BUG IN on Chimay/Belgium. it was the very best event i've ever been. lots of the members of the DKP cal look club from orange/calif. did the trip to europe to come and run in their cars which were sold, some times ago.
number 4 on our scedule, wittstock intern. dragracing event. many racers in different classes, large dragracing areal, best paddock, best organisation outside the SE-germany, sticky track - tranny crashed.
number 5, hockenheim nitroX - personal best 12.08, yes!!!! and a nice tv-feature shown here on kabel1
http://www.raceblog.de/2007/09/25/nitrolympx-2007-bericht-auf-kabel-eins/
the final of the SE-series in september, bitburg raceway - 12.136 @ 106,64 mph.
now, it's over and i'm going to work on the racecar for the following seasing. it looks like i change the class - no street-elimination, no public race, no super street - i will go SUPER PRO ET racing for 2008.
i have to say thank you so much for all the mails, i received the last months. i'm very happy about it and try to answer all of them, right in time.
keep on racing
RICHARZZZ DRAGRACE DEPARTMENT
... comment