Donnerstag, 19. Juli 2007
Wittstock intern. Dragrace - the worst case scenario become reality
the RICHARZZZ Dragrace Department was right in time and full motivated to travel to wittstock to the wittstock international dragrace, reloaded after about 7 years.
the trip started on friday 9 a.m with florian - a buddy of mine - in convoy. after a tire-explosion on the trailer and a following slow ride of the 700 km, we arrived at 7 p.m. in the pits of the racetrack.
it was amazing, what kind of atmosphere there is - a very large padock, perfect infrastucture, large pit-spaces, top security, happy peaple all over there.
we preped the car and had a homie bbq with the other dragracer around us and we where looking good to the following qualifyings and races on the 3rd round in the Street-Elimination-Series Germany.
Saturday, about 11 a.m, it was our call to the line up for the 1st qualifying. we want do the very first wheelie in this street-series with the street radials - so we dialed in the killer-wheely-set-up of the NitroX06 and i burned very hard for a view seconds. the tires get smooth grip on the perfect track, prepaired with lots of trackbit for many days, before.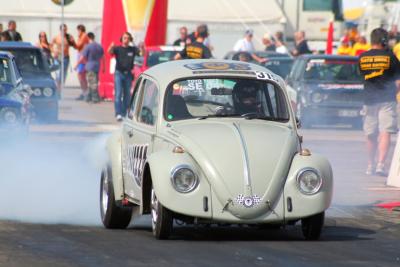 pic from dragstripper - markus münch
i staged vs. "mr. full speed micha vogt" in his '41 primered grey willy's coupe. it was quite possible to get a head to head race over the first half of the track.
the tree runs down - i hold the rev's with the launch limiter - yellow, yellow, yellow, green - as i steped from the clutch, i heard a very loud explosion - the engine run into the max. limiter - no speed. i have to recognize that the gearbox is trash.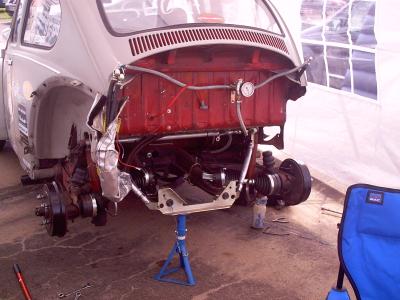 we hoped, that the desaster is on the ring and pinion or the diff - so we are able to change it and could compete again.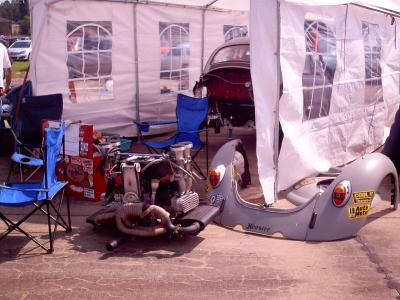 the engine and tranny was out of the car in about 10 minutes and after the following seconds we have to mention - the Street-Eliminator-Series 2007 is over for the RICHARZZZ Dragrace Department.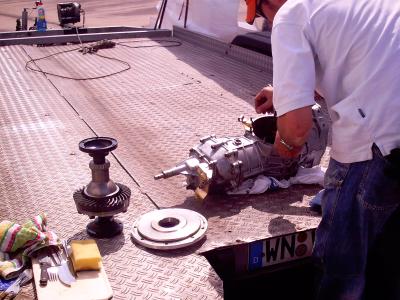 First gear has broken and the case cracked - we need a new gearbox!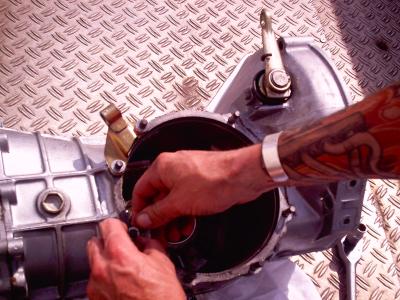 a new transmission is ordered and would delivered with an updated gear ratio and diff on about 2 weeks -so the NitroX 07 will get managed and the SE finals on the DDD#5 in bitburg would be our defined season end for 2007.
see you in hockenheim or bitburg - stay tuned
jens, jo, flo
... comment