Dienstag, 22. Mai 2007
personal E.T. record: 12,26 @ 106,64 (D.O.T. tires)
we're back home from a amazing season opening weekend at the bitburg raceway and the 1st STREET-ELIMINATOR Round with a personal e.t. record of 12,26 sec @ 106,64 m.p.h. on D.O.T. tires.
i'm quite impressed about the M&H D.O.T.'s, they run 1,60 - 1,65 60ft/t, consistant.
whatch out the record run here:
http://www.youtube.com/watch?v=JMBPba6G3_U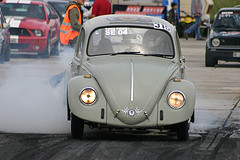 crew chief "markus" celebrated the roll out of his show winning '56 oval with a 14,8 sec. run in full street-trim and radials - quite impressive. keep the car back to the track and remember:
"GO" is the "SHOW" ;-)
the richarzzz crew (markus, jo and the groupies) have done a very good job, also. many thanks to you !!!
now i would prepaire the KWICKI for the 2nd round in ALKERSLEBEN on june, 8-10th.
the new SE field is very close between 10 to 13 sec. cars and the season will bring a lot of hot competitions, i guess.
for more infomation, please watch out
www.street-eliminator.de.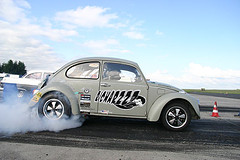 ... comment